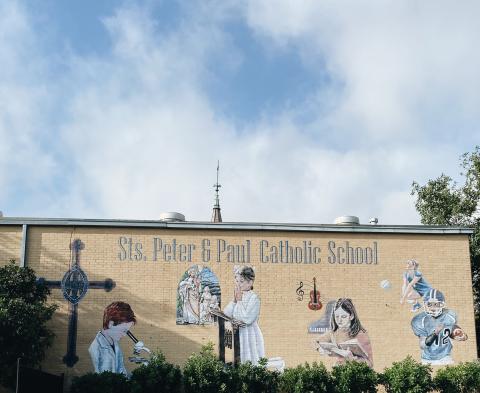 Welcome to Saints Peter and Paul Catholic School!
There are many reasons to choose a Catholic school for your child's education. Catholic schools continue to offer both high academic standards and value-centered education within a personal and safe school environment. Embracing the belief that parents are their children's primary educators, Saints Peter and Paul Catholic School encourages and appreciates parental support and involvement. The faculty at Saints Peter and Paul consists of qualified professionals who remain deeply committed to the gospel message and Catholic identity of the school by providing high expectations for the students to excel in knowledge, skills, and values. A Catholic education prepares students for leadership in a diverse world by educating every aspect of the child: spiritually, emotionally, socially, morally, physically, and intellectually.
"Society grows great when old men plant trees whose shade they know they shall never sit in." (Anonymous Greek Proverb)
"My brothers and sisters in Christ, let us plant the seeds of faith that will bear the fruits of righteousness and service in future generations. We are called to be Saints of God and the greatest gift we can offer is the gift of FAITH." Father Steven Gamez, Saint Peter and Paul Catholic Church
At Saints Peter and Paul Catholic School, by keeping God first, the students of Saints Peter and Paul second, and our school and parish community a close third, we are making our little piece of the New Braunfels Catholic community better than ever.
Yours in Christ,
Jeff Lightsey
Principal
Saints Peter and Paul Catholic School
Mission & Vision
Our Mission
The mission of Sts. Peter and Paul Catholic School is to provide a superior Catholic education and develop Christian leaders.
Sts. Peter and Paul strives to create lifelong learners. To make this a reality we focus on:
Empowering teachers and students
Creating innovative and academically challenging curriculum
Administering outstanding religious and character education
Providing extraordinary extracurricular opportunities
Developing a real-world technology classroom and lab
Our Vision
Sts. Peter & Paul operates under the vision that the school is committed to strong Catholic formation of students. We are here to prepare them for leadership in our diverse world by educating all dimensions of the whole person—spiritual, emotional, social, moral, physical and intellectual.
Faith
Sts. Peter and Paul Catholic School believes in an integral approach to education that strengthens the spiritual, emotional, intellectual, moral, physical, and social needs of our students. We believe that the Parish is responsible for the Catholic formation of its young people. Therefore, the School sees itself as one avenue the Parish uses to pass on its faith and tradition to its children. We believe in the goodness and uniqueness of each person. Therefore, each teacher, staff member, parent, and student are treated with charity, respect, and in a Christian-like manner. We believe that truth is rooted in values and principles founded in Christ's teachings.
Therefore, Christ's teachings are integrated within all course content. We believe that knowledge and values are taught within the context of the community. Therefore, the School continues to foster a community of faith consistent with and in union with the faith community of the Parish. We believe that Catholic formation is critical. Therefore, classes in Catholic teachings are included in the curriculum. We believe that parents are the primary educators of their children. Therefore, the School is supportive of the parents' role and shall build effective, courteous, and respectful communication with each parent. We believe that our students have the responsibility to participate in the faith life of the community. Therefore, opportunities to become involved in the liturgical, social, and political life of the community are provided within our school activities. We believe that Catholic education is a critical part of the Church's ministry. Therefore, we support and encourage the development of Catholic education in the Archdiocese and beyond. We believe that the School plays a vital role in the Parish. Therefore, every effort is made to ensure the School's continued growth and development.
Academic Assistance & Resource Center
The Academic Assistance and Resource Center (AARC) is the hub for accommodation and intervention services at Sts. Peter and Paul Catholic School. Its primary purposes are:
To support teachers in their quest to provide accommodations and differentiated learning opportunities to meet the needs of diverse learners.
To support students with learning differences and disabilities.
To connect parents and students with access to community resources.
Students with 504 plans, Individualized Education Plans (IEPs), or officially diagnosed learning disabilities are provided testing accommodations such as small group testing and oral test administration. AARC staff members are certified teachers who provide guided reading and math interventions for students who demonstrate the need in these critical content areas. Speech-language therapy and dyslexia interventions are also offered to students with official diagnoses. Sts. Peter and Paul does not offer full special education services such as full in-house evaluations, IEPs, modified curriculum, or one-on-one aide services at this time. Referrals will be made for these services should a student show evidence of need.
Any student whose parents or teachers feels would benefit from testing accommodations or content mastery assistance may be referred for AARC services. While working with the student, AARC staff will determine if there may be an ongoing need for supports or symptoms of an underlying learning disability or difference. Observations made during this AARC referral process and options for support will be shared with the student's parents and teachers during consultations and conferences. Students who are formally identified will be given priority assistance when time and resources are limited.
AARC is also a resource for parents at Sts. Peter and Paul Catholic School. AARC staff may act as consultants for parents with questions regarding availability of on-campus supports for their children as well as community resources available for their specific concerns. Please reach out to the Academic Assistance Coordinator if you feel your child may benefit from AARC services or you have any questions regarding the programs offered at Sts. Peter and Paul Catholic School.
Extracurricular
Sts. Peter and Paul Catholic Schools participates in Catholic Youth Organization Sports (CYO) from PK3-4th grades and the Archdiocesan Interscholastic League in 5th-8th grades.
It is the desire of Sts. Peter and Paul Catholic School athletics to build champions in four areas: 1. Intellectually 2. Spiritually 3. Physically 4. Socially Our athletic philosophy is centered in developing a positive belief in the attainment of realistic goals. With proper work ethic, reasons for motivation, and proper planning, our Panthers CAN achieve what they believe.
SPP offers leadership opportunities through National Junior Honor Society (NJHS), and Student Council (StuCo). NJHS is a program open to Middle School students who meet the required standards in five areas of evaluation: scholarship, leadership, service, citizenship, and character. StuCo provides middle school students the voice for solutions to problems and opportunities affecting students and focuses on service opportunities in our school.
In addition to offering sports, scouts, and leadership opportunities, Sts. Peter and Paul participates in the Catholic Arts and Academic Competition (CAAC) as well Private Schools Interscholastic Association (PSIA) which are designed to showcase student talents and understanding of Catholic Identity, Arts and Humanities, and Academic Achievement by competing with students from other Catholic schools in the Archdiocese. Students in 6th -8th grade are introduced to Theater through One Act Play. Students gain an appreciation for the amount of work it takes to put on a production as well as the confidence needed to speak in front of others.
SPP offers extracurricular clubs created to meet various student interests, such as Lunch in The Library, and Spanish Club. Lastly, our students actively participate in mass as altar servers, lectors, hospitality ministers, and choir members at our weekly all school Masses and Adoration.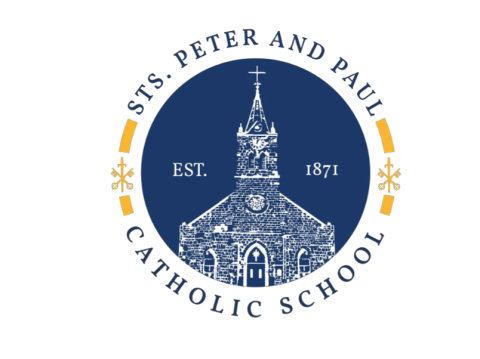 Statistics
Founded 1871

151 years of continuous Catholic Education
Students attend mass once a week on Wednesdays
Scholarships offered through Hope for the Future and Sts. Peter and Paul Catholic School's Guardian Angel Fund.
1:1 Computer/Tablet to student ratio
Before and After School Care is available from 7-7:25 a.m., and 3:30-6 p.m.
315 N. Seguin Street Ste. 300
New Braunfels, TX 78130
United States