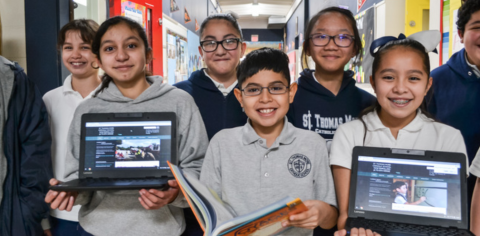 Experience the difference at St. Thomas More Catholic School!
• 60 years of excellence – Since 1962, St. Thomas More Catholic School has been committed to providing an educational and spiritual experience. We welcome children ranging from 18 months of age to 8th Grade. At St.Thomas More children learn how to be confident, excited about learning, challenged, and successful. They also find their voice and become thoughtful, responsible members of the community.
• Faith Based – Our students learn and mature in an environment that upholds the highest moral principles of our shared Catholic and Christian faith. Students are immersed in their Catholic faith during Friday Masses, prayer services, and religious programs, such as our annual Christmas program.
• A Micro-school – As detailed in our mission statement, we are committed to increasing our knowledge. Adapting to the times, St. Thomas More has successfully implemented the Micro-school Model since 2018. This multi-age classroom setting is designed to maximize student engagement and academic growth. This student-driven model allows for an increase of individualized instruction for ALL students on ALL levels.
• Traditional meets 21st Century – At St. Thomas More, our teachers blend traditional methods of instruction with hands-on lessons enhanced with the use of technology. Because we are preparing children for the future, our focus on 21st-century skills, such as critical thinking, collaboration, creativity, and communication, are key.
• Great Location – St. Thomas More is nestled in an established neighborhood on the Northeast side of San Antonio. Convenient to I-35 and Loop 410 interchange and less than 5 miles from Joint Base Ft. Sam Houston.
See the difference – Call us to schedule a tour! 210-655-2882 and visit our website at www.st-thomas-more-school.org. 
Excellence is affordable! – Hope for the Future Tuition Assistance program offered by the Archdiocese of San Antonio. Scholarships are also available through the school office!
We look forward to hearing from you!
Blessings,
Mrs. Kimberly A. Gutierrez
Principal
Kimberly A. Gutierrez
Principal
Our Mission
We are committed to:
Living as Jesus did.
Developing our faith.
Increasing our Knowledge.
Academics
We strive to educate the whole child. It is important to teach to the intellectual, emotional, physical, and spiritual development of the child. St. Thomas More Catholic School uses the curriculum guidelines of the Department of Catholic Schools of the Archdiocese of San Antonio along with the Texas State Standards as its main source for determining the course of instruction. To accomplish these goals, teachers will use textbooks, workbooks, group projects, and other outside resources as necessary to assure mastery of these objectives. Special attention is given to developing age and skill-appropriate teaching practices to meet the needs of all students. All students receive instruction in the core courses of religion, math, English, literature, science and social studies as prescribed by the TCCED Bell to Bell schedule. Students will also receive instruction in the specialty subjects of music, art, physical education, computer science, and Spanish.
Pre-Kindergarten (3 & 4-Year-Old) Program
St. Thomas More Catholic School offers a full-day and a half-day, five-day a week Pre-Kindergarten three and four-year-old program. Each class is lead by a certified teacher.
The Pre-Kindergarten curriculum includes pre-reading skills, phonics, mathematical concepts, handwriting, journal writing, religion, science, social studies, and social skills development. Students experience elective classes in Spanish, technology, Library, and Physical Education.
St. Thomas More Child Development Center is open to children 18 months – 3 years old. Our Child Development Center offers a faith-based program that focuses on the developmental, academic, and spiritual growth of the young child. Children will be given opportunities to grow their social, emotional, and intellectual skills in a safe environment that builds up God's kingdom. STMCDC is open from 7 a.m. - 6 p.m.
Our Goals in Faith
To witness our faith in Jesus within an environment that fosters mutual love and respect.
To provide opportunities for our students to grow in their understanding of the Gospel and Catholic teachings through instruction, worship, and community activities.
To build community through dialogue with the parents, Parish, boards, faculty/staff, and students.
To provide a superior educational program emphasizing essential academic skills that enable the student to successfully continue in his/her education while encouraging excellence and scholastic achievement.
To help our students build a sense of personal integrity by encouraging self-responsibility and self-discipline while providing a firm foundation in Catholic moral values.
To foster an understanding of our world, our nation, and our responsibilities to both within the context of Catholic social teaching
Activities
St. Thomas More offers many other extracurricular activities to meet the interest of our students.

We also recognize the development of the whole child with the St. Thomas More School's Chapter of the National Junior Honor Society.

Middle school athletics is known as the A.I.A.L. which stands for the Archdiocese Interscholastic Athletic League and it is open to 5th – 8th graders wanting to play middle school sports.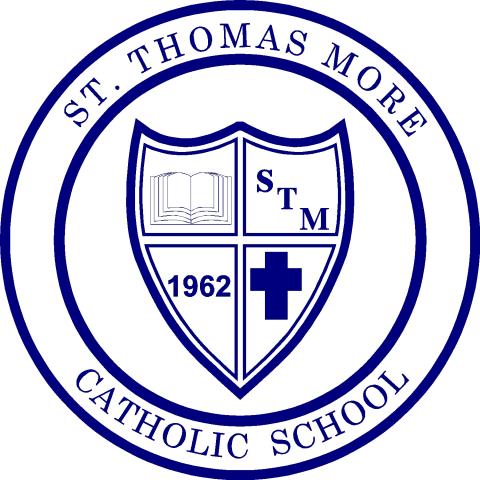 Statistics
Student to Teacher Ratio is 7:1
Fully accredited by Texas Catholic Conference of Bishops
We offer multi-age classrooms to maximize student engagement and growth.
We offer a Before and After School Program, beginning at 7 a.m. and
ending at 6 p.m. each school day
From arts to athletics to technology and beyond, STM strives
to meet the needs of our students.
Grades
18 months - 8th grade
4427 Moana Drive
San Antonio, TX 78218
United States