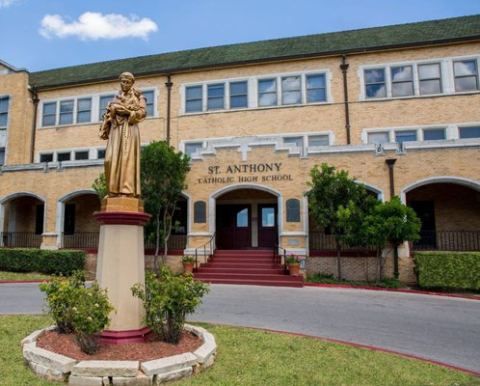 Welcome From Our Principal
Greetings,
Welcome to St. Anthony Catholic High School, where we strive to get students to and through college. God is working with us every day as we continue to build a premier Catholic college preparatory high school in San Antonio.
I became principal of St. Anthony Catholic High School in August 2017, but my experience with this wonderful institution dates back to 1992. As a young woman, I was an active member of my church and attended summer Bible camp right here at St. Anthony. Sitting on the steps of our school, I memorized the books of the Bible and fell in love with the Letters of St. Paul that spoke much about love.
I consider it one of my greatest blessings to be the principal at a school founded in 1903 to plant seeds of faith — which is just as important today as it was more than 100 years ago.
Presently, we are hard at work tending those seeds and educating future leaders. St. Anthony recently received an "Outstanding" rating
from the Texas Catholic Conference of Bishops Education Department, celebrating our Catholic identity and service to others. We also received an "Exemplary" rating for our extracurricular activities.
Our strong foundation is further supported in our current cornerstone, VISION 2024: Living the Mission. Starting now, this new initiative will guide us in our mission to nurture even stronger leaders for the future. We are committed to enhancing our college and career readiness curriculum by increasing available Advanced Placement courses, with the goal of bolstering test scores and putting more full scholarship opportunities within reach. We will also upgrade the access to technology for our students to prepare them to meet and exceed 21st-century expectations in college and in life.
Our history rooted in faith, our present work educating excellent young men and women, and our future as an even more exceptional school, simply prove that we are the Catholic high school to attend. Our strong and active community engages others with a sense of belonging. Our St. Anthony family lives out our Catholic faith through service and sharing the love of God.
We hope you will keep us in prayer and make plans to visit and enroll at St. Anthony Catholic High School! We look forward to welcoming our future Yellow Jackets.
May your life be blessed!
Dr. Kristina Vidaurri
Principal
Dr. Kristina Vidaurri
Principal
Who We Are
St. Anthony Catholic High School is a premier co-educational institution rooted in Catholic values and traditions, which form the foundation for the comprehensive college preparatory curriculum. Young men and women who attend St. Anthony Catholic High School partake in an extensive array of rigorous academic courses that both challenge and enrich their understanding of the sciences, the arts, religion, languages and cultures, emerging technologies and more.
Students also have the opportunity to participate in college freshman courses as part of the High School Connection program at the University of the Incarnate Word. Top-notch athletic programs and exciting extracurricular activities help shape well-rounded leaders. Guided by devoted faculty and staff, St. Anthony's holistic approach to education allows students to grow mentally, physically and spiritually and empowers them to make choices consistent with their academic and career goals.
At St. Anthony Catholic High School, students will become part of a community that prepares them for the challenges of the future and their place of service in the Church and the world.
Mission and Vision
Mission Statement
St. Anthony Catholic High School prepares young men and women for positions of responsibility and leadership through a college preparatory curriculum based on Catholic values and traditions. Within a comprehensive array of demanding academic courses, athletics, and extracurricular activities, students develop the mental, physical, and spiritual well being needed to make choices consistent with their academic and career goal and reflecting the spirit of Catholic education.
Vision Statement
St. Anthony Catholic High School is a premier co-educational institution founded on Catholic values and traditions, which are the basis for a comprehensive college preparatory curriculum designed to promote scholarship and spiritual growth and appreciation for the power of service.
Faith Life
Celebrating in the spirit of Christian service influenced by the Missionary Oblates of Mary Immaculate and the Sisters of Charity of the Incarnate Word, our community seeks to give witness to Christ through living our mission. This witness is revealed through a prayerful, apostolic community committed to enabling our students to discern their calling in the church and in the world.
Prayer, Worship, and Sacraments
St. Anthony Catholic High School is committed to the faith journey of our students.
Eucharistic Adoration
8 a.m. Mondays
SongFest
8 a.m. Thursdays
Celebration of the Eucharist
8 a.m. Fridays
Sacrament of Reconciliation
The opportunity to celebrate this sacrament is offered during Advent and Lenten seasons. Access to more extensive spiritual direction with an Oblate priest is offered on an ongoing basis and as requested.
Retreats
Under the direction of our Theology Department and Mission & Ministry, we offer spiritual retreats for all of our students and faculty. Seniors participate in an overnight retreat in the fall and a one-day retreat in the Spring. Ninth, tenth, and eleventh-grade students have the benefit of experiencing a one-day retreat designed especially for their grade level.
Statistics
$12 Million in Scholarships
Microsoft Innovative Educator Certified School
SAT/PSAT Higher than national average
3200 McCullough Ave.
San Antonio, TX 78212
United States