Providence—Committed to Catholic Education
Since 1951, Providence Catholic School has been a constant presence in Catholic education in the San Antonio community. Built on historic property near the downtown area, the Sisters of Divine Providence consolidated five of their smaller high schools to establish Providence High School. By expanding enrollment in 2005 to include middle school grades 6-8, Providence created a unique opportunity for single gender education for girls in San Antonio. Keeping true to the core values of excellence, integrity, faith and justice, Providence has graduated over 6,000 young women--many who live, work and make a difference in the San Antonio community and the world at large.
As the school's principal and representative of the Sisters of Divine Providence, I work closely with our faculty, staff, board, and parents to ensure the mission of Providence is the motivation and strength behind everything we do at the school. From the classroom to the sports fields, from the boardroom to the parents' organization, Providence is what guides us.
Since the time the school first opened its doors, things have changed in our city, our country and the world. Providence prepares young women for success in meeting the challenges of a changing world. In order to do so, we offer the students strong core curriculum, innovative electives, a faith enriched environment, and community outreach opportunities.
Providence has partnered with businesses in an Internship Program. Seniors interested in a particular field of work or study are able to become ready for the future with real-life working experience. Interns work 3-4 hours a week at businesses such as La Prensa, Blue Star Contemporary Art Center, WOAI, and Methodist Healthcare.
The Broadcast Journalism and Video Editing classes work with modern technology every day as they produce the school-wide announcements each morning for Provet TV. The students in these classes also produce videos for use in the school's advancement and alumnae activities.
The Campus Ministry at Providence prepares our students to become women of faith. Campus Ministry leads and engages our students in service projects, participation in monthly liturgies, and other faith-based exercises.
Providence students at all grades are encouraged to participate in local, state and national academic competitions where they consistently gain national recognition in the area of language studies--Spanish, French, and Latin. Multiple local and state awards are earned by Visual Arts students, and the Marian Choristers and Show Choir.
I believe Providence Catholic School will continue to graduate leaders, learners, women of faith and justice. And, these young women will help strengthen the future of Catholic education in San Antonio and beyond. Explore Providence! Experience the Sisterhood!
Dr. Alicia Garcia
Principal
Providence Catholic School
Alicia Garcia, Ph.D
Principal
Academics
Student must complete a total of 28 credits to graduate. Our course requirements fulfill the Texas State Recommended, Distinguished Diploma requirements, and multidisciplinary endorsement. High School student have opportunities for dual credit through both St. Mary's University and Our Lady of the Lake University. Providence also overs a variety of math and science electives to include STEM, Engineering, Health Sciences, Computer Science and more. Most recently renovating a classroom space for a STEM Lab.
Advanced Placement Courses:
AP English Language
AP English Literature
AP Spanish Language and Culture
AP Spanish Literature and Culture
AP French
AP Latin
AP Calculus AB
AP Biology
AP Chemistry
AP US History
AP European History
AP Studio Art Drawing
AP Studio Art 2D Design
AP Studio Art 3D Design
Faith
Campus Ministry supports Providence students in their individual and communal growth as they strive to live the message of the Gospel. The ministry is directed towards and seeks to involve students, faculty, administrators and staff. Providence encourages all students to engage in all aspects of faith life on campus through liturgies, retreats, worship, and service to the community. Students actively participate by serving as lectors, assisting the Celebrant during monthly liturgies, taking part in processions and choir. They also help plan services that support spiritual growth, celebrate holidays such as Holy Thursday and Thanksgiving and continue school traditions. Every year each class attends a developmental and fellowship retreat starting with a day away from campus and building to a two-night, three day retreat during their senior year. Giving back to the community is a hallmark of a Providence education. All students participate in community service activities each year led by our Campus Minister, Sr. Melissa Cessac, CDP.
Extracurricular
Leadership is a cornerstone of our single-gender educational experience. In addition to the traditional student government roles, Providence offers a wide array of classes, clubs and organizations including:
Ambassadors, Ecology Club, French Club, Global Justice, JROTC (HS only), Moye Prayer Group, Mu Alpha Theta, National Honor Society, National Junior Honor Society, National Art Honor Society, National Junior Art Honor Society, Thespian Honor Society, Drama Club, Robotics, Middle School Math & Science Club, National Spanish Honor Society, Page Turners Book Club, Fashion Club, and Rotary Interact.
Providence offers outstanding core and extracurricular fine arts programs designed to develop technique and explore personal expression from grades 6th through 12th. Performance and competitive opportunities include: Band, Dance, Technical Theater, Choir, Performing Arts, and Visual Arts.
At Providence, high school and middle school students have the opportunity to participate in competitive athletic program including the following: Basketball, Golf, Swimming (HS only), Bowling (HS only), Tennis, Volleyball, Cross Country, Softball, Track and Field.
Students can participate at various levels as athletic managers and student trainers, both A and B teams for middle school, and Junior Varsity and Varsity for high school. Provets compete in the Texas Private and Parochial Schools (TAPPS) 4-5A district and in the Archdiocesan Interscholastic Athletic League (AIAL) Class 2A - Large Schools.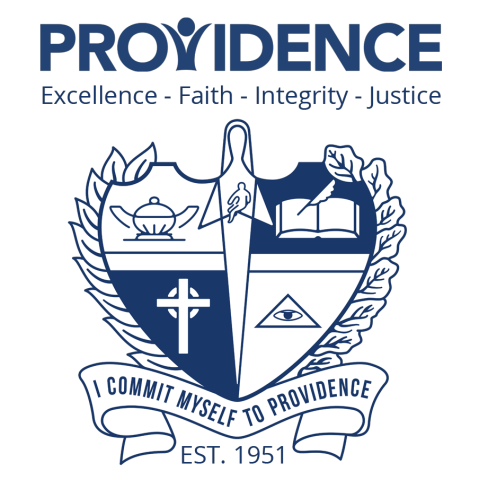 Statistics
Average teacher/student ratio: 1/10
Providence LEADS the San Antonio Catholic schools with the average amount of scholarships earned by a Providence graduate. (An average of $235,000, is based on a 5-year average of scholarships and grants earned. This does not include financial aid amounts.)
75% of current students receive tuition assistance, scholarships or discounts.
100% of Graduates are accepted and attend a college or university of their choice.
1215 N. St. Mary's St.
San Antonio, TX 78215
United States