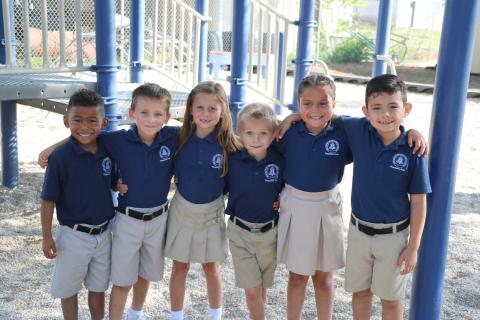 Welcome to Our Lady of Grace Catholic School!
We are located in a small rural community dedicated to providing an excellent education in a welcoming environment.
We offer Pre-K3 through fifth grade, and all faiths are welcome. The Pre-K through fifth grade academic years are important foundational years in the lives of all children. Our Lady of Grace Catholic School provides a solid foundation by building a child's faith, knowledge, and spirit that will serve them for the rest of their lives. At Our Lady of Grace Catholic School, our students will be challenged to develop as lifelong learners with self-respect, self-confidence, and self-discipline. Our teachers and staff challenge students daily through out-of-the-box thinking, project-based learning, presentations, and peer-group learning.
Our goal is to "Educate the Whole Person to Live in Jesus Christ." We know you have choices for your child's education, and we pray you choose Our Lady of Grace Catholic School for your family.
Please call us today at (830) 569-8073 to schedule a tour and see our beautiful campus.
About Us
Our Lady of Grace Catholic School is a Regional Accredited Catholic school under the umbrella of the San Antonio Archdiocese. The PK3-5th grade school program is under the administrative direction of Principal Tammy Ducote.
Mission
The Mission of Our Lady of Grace Catholic School is to provide an academically superior education in a secure environment focused on Catholic Identity for creating educated, spiritual leaders for the future.
Vision Statement
"Educating the Whole Person to Live in Jesus Christ"
Goals for Our Lady of Grace Catholic School
Faith Community Goal: To develop a faith-filled community among faculty, staff, students and parents by promoting and modeling Gospel Values.
Academic Goal: To develop a sound curriculum in all core subjects by making use of up-to-date technology and teaching techniques.
Spiritual Goal: To form our students in Christian values through daily experiences of God's love, compassion and concern for others.
Personal Goal: To form students who will recognize their own self-worth and potential by continuously challenging them to set goals for themselves.
Social Goal: To develop students who will be respectful and compassionate towards others by challenging them to respect individual differences and grow in love and tolerance.
Physical Goal: To develop life-long habits of good health and wellness through daily physical exercise and instructions in healthy nutrition.
Statistics
Average teacher-to-student ratio: 1:12
Students attend Mass weekly
Before and After School Care from 7 – 7:30 a.m. and 3:30 – 6 p.m.
18% of students receive scholarships
626 Market St.
Pleasanton, TX 78064
United States