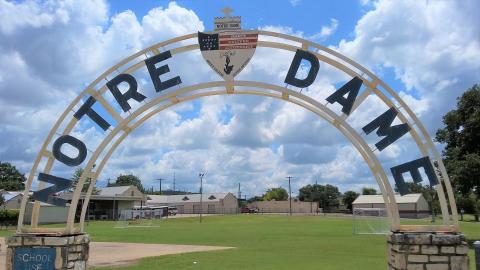 Dear Prospective Notre Dame Catholic School Family,
Welcome! As educators, we want the best for your child and wish him/her success in life. A Catholic education is one of the most important investments you can make for your child's future. Catholic education can provide your child with the experiences he/she needs to grow and develop into the person God has created him/her to be.
Notre Dame Catholic School is an accredited school and has served the Kerrville area for over 110 years.
Why NOTRE DAME? Throughout its history our vibrant school has flourished because it was founded on the following pillars of high standards: Faith, Discipline, Academic Excellence, Leadership, Service above Self and a Compassionately Dedicated Faculty and Staff. Our Catholic faith and Christian values lie at the center of everything we do and teach at our private school. God is present in all that we do and what we are all about. The message of Christ is always present in our classrooms.
Would you like to learn how your child would benefit from an education at Notre Dame? Come and see. Truly, a price cannot be put on the value of a great education! We have tuition assistance programs to help families in need so that it becomes an affordable educational option.
Please contact our office to arrange a campus tour. We look forward to meeting your family and welcome your consideration!
Ms. Ellen Kenalty
Principal
Mission
The mission of Notre Dame Catholic School is to educate our students to live following the model of Jesus.
Academics
Notre Dame provides a comprehensive Preschool through Eighth Grade educational program based on religious beliefs and values. We offer a strong core curriculum in Math, Language Arts, Science, Social Studies, and Religion. We have a dedicated, professional faculty who works to educate the whole child by providing rich, innovative lessons rooted in our Catholic faith. We use NWEA MAP testing 3 times a year to track student growth along with formal and informal classroom assessments. With our goal to educate the whole child, religious formation is the cornerstone of our school with Catholic morals and values integrated every day throughout the entire curriculum. Along with our strong core curriculum we offer Spanish, Art, Music, and P.E. throughout the instructional day. Middle school is also offered biweekly electives including Yearbook, Choir, Robotics, Theater, and Journalism. Our students enjoy a high degree of academic success as witnessed by the number of our graduates attending Catholic high school. Furthermore, over 95% of our students are inducted into the National Junior Honors Society by 7th grade, and serve in leadership positions.
Faith
We believe that all students are uniquely created by God and therefore we are called to foster their individual gifts and to develop their greatest potential. In a caring educational environment, enhanced by the integration of Catholic faith and values, we seek to encourage the students' spiritual, moral, intellectual, personal, cultural and physical development. Each school week concludes with a celebration of Mass, the pinnacle of our Catholic faith, on Friday mornings. We offer reconciliation periodically to all students. Religious Classes are incorporated daily in all grade levels. Our students take part in our Masses by Reading, Altar Serving and Choir! Altar Serving is strongly supported by our children supporting the parish community especially during funerals during the school day.
Extracurricular
In addition to strong academics, extracurricular activities are offered, physical education and athletics form an important and necessary part of the Notre Dame curriculum. Each middle school student is encouraged to perform on the level of his or her own capability within the framework of the teams, and in the pursuit of a common goal. In this manner, our children come to understand teamwork and sportsmanship as they compete in soccer, volleyball, basketball, tennis, track and golf! Here at Notre Dame Catholic School our Athletic program is unique, we have a small number of athletes and they receive quality instruction because of it. Notre Dame athletes receive more one-on-one time with their coaches and no one feels left behind or misses out. Many of our sports teams are coached by volunteers and even parents of children who attend Notre Dame, and that makes for a feeling of family and bonding with the teams. Anyone who is participating in Notre Dame sports will feel well coached and well attended to. Our students have an opportunity to participate in many clubs and electives, such as Choir, Theatre, Chess Club, and Robotics - which we currently have our students competing in the world championship! We do have a main fundraiser which is our School Festival. It is organized by parent and parish volunteers. Our main goal for this fundraiser is Community! We love our community because it goes beyond our Parish. Kerrville is a unique place to settle at; we are a small community and we call it home.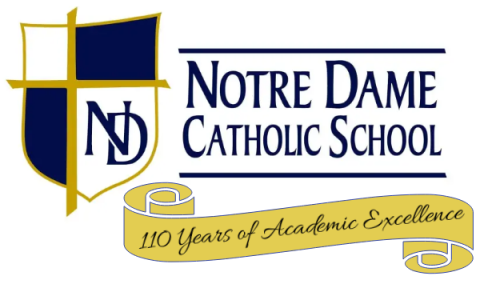 Statistics
Students attend Mass once a week and all Holy Days of Obligation
Early Bird Care at 7:20 a.m. and After School Care from 3:45 p.m. to 5:30 p.m.
Founded in 1912 by Father Henry Kemper
$112,000 in scholarships awarded annually
Established 1912 - celebrating 110 years
907 Main St.
Kerrville, TX 78028
United States