Our School
The micro-school model at LFS helps students on their academic journey and prepares them for future learning.
The micro-school model is tailored to the individual student and draws from the strengths of other models of education, such as homeschooling co-ops and the old "one-room school houses" of history. Recent upgrades and Chromebooks for every student allow the use of programs like Superkids & Dreambox to advance students' reading and math skills at their own pace.
Traditional grading methods remain in place to facilitate transition into high school. After running a pilot multilevel classroom in recent years, in 2020 Little Flower School permanently adopted the micro-school model based on the success of our previous multilevel classroom experiences.
How this benefits your child:
Instruction is individualized to meet the developmental needs of students academically, emotionally, and socially.
Students progress at their own pace, individuality is valued!
Stronger relationships are developed with peers and teachers.
Students acquire values that are congruent with the teachings of the Catholic Church and challenge themselves both socially and academically.
80-90% of our students go on to attend Catholic High Schools and receive scholarships to continue their academic journey.
Mission
Our mission is to provide all children an excellent, holistic educational program rooted in the Catholic faith and in the spirituality of St. Thérèse: "doing the ordinary things with extraordinary love."
We at Little Flower School assist the Church in its mission of developing committed Catholic Christians. All children, regardless of race, color, or creed are accepted and welcomed. We collaborate with parents and guardians in their role as primary educators of their children. Students are encouraged to take responsibility for their learning both in academics and in living their religious values. We guide our students to recognize the love of God in our midst and challenge them to extend His love to those in need, following the example of Jesus and St. Thérèse.
LFS is accredited by the Texas Catholic Conference Education Department and recognized by the Texas Education Agency while implementing curricula which meet and exceed TEA requirements.
Curriculum
The micro-school model at LFS helps students on their academic journey and prepares them for future learning!
Education and Catechism at Little Flower
Curriculum implementation for Little Flower School follows the curriculum guides of the Archdiocese of San Antonio using the Catholic School Standards with the integration of Gospel values and the teachings of the Catholic Church.
Each grade level covers the following subjects throughout the year:
Reading

English/ Language Arts

Mathematics

Social Studies

Science

Foreign Language

Fine Arts

Physical Education

Technology

Other Electives
Faith Formation
LFS Students learn and grow in their religious and spiritual life, internalizing values they will use as adults, following the example of Jesus and our patron, St. Thérèse!
Catholic Identity
The Catholic faith and Carmelite spirituality is interwoven throughout the curriculum. Little Flower School endeavors to put into practice the key concepts of Message, Community, and Service as outlined in the American Bishop's Pastoral Message on Catholic Education (To Teach as Jesus Did, 1972).
Daily Spirituality Practices
Religious Education is incorporated into the daily teaching curriculum. Students start their day with a morning offering asking St. Thérèse's intercession:
Dear St. Thérèse,
Help me to trust in Jesus' love for me, just for today. Help me to thank Jesus for loving me and blessing me, just for today. Help me to please Jesus by doing all he asks of me, just for today. Help me to do my best in my classes and to treat others with kindness, just for today. If I fail in any of these things, help me to tell Jesus I'm sorry and to trust in his forgiveness, just for today. As Jesus forgives me, help me to forgive others, just for today.
With Mary as our Mother and you as my sister, I offer all of today to Jesus our Loving Savior. Amen
Meditation Mondays in the Classroom
Introduced during the 2021-2022 school year, all grade levels have a chance to explore contemplative prayer using prompts from St. Thérèse's "Story of a Soul" and the Discalced Carmelite saints.
Weekly Mass
Students attend Mass weekly and on special feast days at Little Flower Basilica, where the Discalced Carmelite Friars share the Catholic faith and Carmelite charism with students and their families. Lessons and Liturgy are adapted to the level of the students and they are given an opportunity to participate in its preparation (altar servers and readers).
Sacraments of Reconciliation and First Communion
Students are prepared for the reception of Penance and Eucharist in the second grade. Parents/Guardians of children from Little Flower Catholic School must attend classes in preparation.
Service
In addition to assisting as altar servers or singing in the choir, students give their time to school and parish activities, class service projects, and collect goods and raise money for those in need. All students participate in the Stewardship program.
Gospel Values
The practice of Gospel Values is fostered in everyday living. The school motto, Remember, Jesus Christ Came From Heaven Spreading Love, Peace, and Hope, reflects the Gospel values that are practiced on a daily basis. The motto is a mnemonic device which stands for the ten Gospel Values: Reconciliation, Justice, Courage, Community, Faith, Hope, Service, Love, Patience, and Humility.
A different Gospel Value is highlighted each month alongside a Beatitude and a Catholic Social Teaching. Students engage in discussion of how we can each live these out in a daily life. Service projects and other activities reinforce the Gospel Values.
Guidance
Students receive guidance on issues facing youth and children on a weekly basis. On a part-time basis Guidance Counseling students from St. Mary's University, under the direction and supervision of trained professionals, offer group and individual sessions (with parent permission). Guidance materials employed include Archdiocese recommended "Growing in Curriculum" and "Right Choice" a supplemental guide.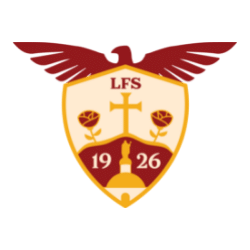 905 Kentucky Ave.
San Antonio, TX 78201
United States