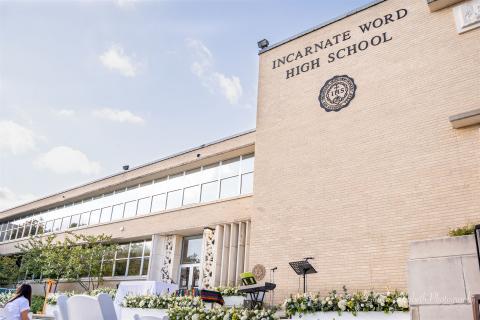 WELCOME TO INCARNATE WORD HIGH SCHOOL
Established in 1881, by the Sisters of Charity of the Incarnate Word, Incarnate Word High School has served as a home of learning and spiritual growth for generations of young women from every walk of life.
We believe in a holistic process where students, parents, faculty, staff, sisters, alumni, and administration all work together to ensure academic success, a growth mindset and a belief in continual school improvement.
As a community, we know we need to prepare our young women for jobs that may not currently exist, using technology that is still being invented, to solve problems that have yet to be discovered. We can do this all by creating authentic, meaningful, and relevant learning experiences rooted in our Catholic upbringing.
Incarnate Word High School is a place where tradition grounds us in the spirit of community and learning happens at the speed of light. Together, we are building a better future for our students, our community, and our world. Generations have called this home and we are glad you have as well.
Praised be the Incarnate Word!
LICIA JIMENEZ-FARIAS
Associate Principal
MISSION
Incarnate Word High School prepares confident young women dedicated to academic excellence, integrity, community of faith, compassion, service, and stewardship.
OUR CURRICULUM
A Shamrock's journey begins with our strong foundation, faith-based curriculum and mission to cultivate strong, intelligent, independent, informed and devout women.
As a college preparatory school, we focus on academic excellence and rigorous, competitive curriculum, including on-level, Pre-Advanced Placement and Advancement Placement courses.
WHAT WE BELIEVE AT IWHS
Recognizing the dignity of each person, IWHS invites students from a wide range of ethnic, cultural, and religious backgrounds into our school community. Besides preparing our students academically to meet the challenges of the future, our aim is also to help them grow in their faith, to give witness to the Gospel, and be of service to our local and global community.
Mission and Ministry supports the spiritual journeys of our students. It is our focus to make visible the Incarnate Word, Jesus Christ, and challenge our young women to find their gifts and use them in service to humanity.
Statistics
Founded by the Sisters of Charity of the Incarnate Word in 1881
727 E HILDEBRAND
San Antonio, TX 78212
United States