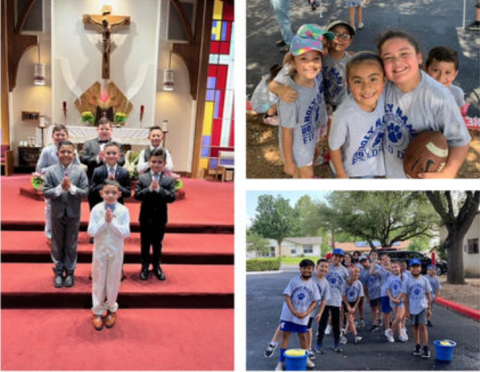 Welcome to Holy Name Catholic School, home of the Bobcats. Holy Name School is located in a suburban southeast section of San Antonio, less than five minutes from Brooks Air Force Base, Interstate 37, and Loop 410. Our campus is easily accessible and convenient to a wide section of San Antonio. Our suburban location ensures the atmosphere of a quiet, neighborhood school. 
My name is Susie Garza. I am the school principal. It is an honor and a privilege to work at such a wonderful school. Here at Holy Name, we strive for all students achieving academic excellence and quality faith formation. Our dedicated staff has an average of fifteen years experience teaching within the Archdiocese schools. We have devoted, hard-working, and talented teachers who are dedicated to the growth and success of our students. We offer small class sizes, leadership development, faith-based values, and a strong academic focus. 
Our campus is currently accepting enrollment for grades PK3-8th grade. Please call 210-333-7356 or visit our website at hncstx.org to schedule a school tour. Tuition assistance is available. We would love to have you as part of our Holy Name Family.
Sincerely,
Susie Garza
Principal
Holy Name Catholic School
Mission
The mission of Holy Name Catholic School is to provide a Christ-like secure atmosphere which promotes strong Catholic values and academic excellence.
Academics
Holy Name Catholic School utilizes the Texas Essential Knowledge and Skills (TEKS), which are the state standards for what students should know and be able to do. Teachers have access to curriculum that is continually refined by the Curriculum and Instruction department of the Archdiocese of San Antonio. We take into account social, emotional, academic, and faith needs for all our students.
Students receive a high-quality education with a focus on growth and mastery. Instructional routines are repeated every day to help increase engagement and allow students to successfully interact with each other and the content for their grade level. Teachers work to move students towards mastery by monitoring learning and adjusting instruction based of collected data. Students in grades K-8 take the NWEA MAP assessment. NWEA's assessments are called Measures of Academic Progress (MAP). These are computerized adaptive tests that include Fluency, Reading, Language, Math, and Science. Students take the assessment in the Fall, Winter, and Spring to measure student progress or growth in school.
We have wonderful, talented, dedicated, and experienced teachers who work daily to help all our students learn, grow, and reach their potential.
Faith
At Holy Name we believe in a partnership with parents, students, church, and the school to instill values and teachings of the Catholic Church. Students participate in religion class daily and attend mass weekly. Our day begins and ends in prayer and reflection. Holy Name will provide instruction at school to prepare students for their Sacraments. Students are prepared for First Communion and Confession in 3rd grade and students are prepared for Confirmation in 8th grade. We have a beautiful choir who sings weekly in mass. Students are also able to serve as altar servers for the parish upon completion of First Communion.
Extracurricular
We are very proud of our Award Winning Athletics Teams. Go Bobcats! At Holy Name our goal is to enrich our students' educational experience through Athletics. This provides students a means to develop, physical, social, mental, and moral character through sports. Sporting events include Volleyball, Soccer, Basketball, Football, Baseball, and Softball.
Students also can participate in School Council. The School Council provides leadership and service opportunities for students to become actively involved in school issues, community service, and continued faith formation. It is a great opportunity for students to continue building the necessary leadership skills for future academic endeavors.
Our award-winning Choir is a joy to be around. It is beautiful to hear the music and instruments fill the hallways each and every day.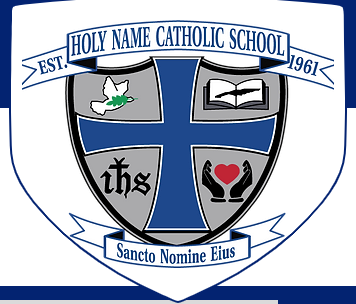 Statistics
Students attend Mass once per week
After School Care Available from 2:45 p.m. to 5:30 p.m.
Average Teacher/Student Ratio:
1/14
3814 Nash Blvd.
San Antonio, TX 78223
United States