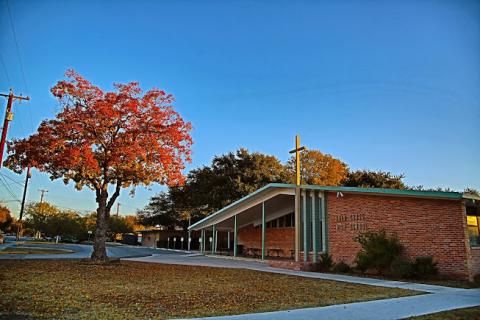 President's Welcome
Dear Current & Future Students, Parents, Alumni and Friends,
Each day at Holy Cross of San Antonio we strive to cultivate and expand your confidence. In our mission, Preparing students for earthly and eternal life are embedded in our educational philosophy, the Moreau Tradition of Education. It is the philosophy in Holy Cross schools and universities throughout the world. This tradition of education originated more than 150 years ago with Blessed Basile Moreau, founder of the Congregation of Holy Cross. It is in this philosophy that Holy Cross participates in the educational mission of the Catholic Church.
A Catholic education is one that is presented in a global context. Academic freedom has been a hallmark of Catholic education and is absolutely essential. Exposure to knowledge and learning is without limits. As a Catholic school, education at Holy Cross stands in opposition to society's attempt to limit parental values; to limit parents' educational choices; to limit spiritual experiences and theories with the limitations of the scientific method; to replace moral and cultural values with modern fads and tendencies; to blight concepts and beliefs that are rooted in Christian principles. But, Holy Cross will not be limited by these boundaries. Education at Holy Cross prepares students to surpass these limits.
Holy Cross of San Antonio is a valued option for parents who choose a Catholic education for their children. We stand with parents who make this choice although most often this choice is extremely difficult and causes financial stresses.
The educational opportunity at Holy Cross is emphasized by the graduation and college acceptance rates. Holy Cross alumni serve in all levels of society and are contributing citizens of their communities. Friendships developed as students continue throughout their lives thereby giving credence to the attribute often proudly repeated "Holy Cross Family."
I welcome you to our online community and into the Holy Cross family on campus.
Sincerely in Christ,
Brother Stanley Culotta, C.S.C., M.D.
President
Rene Escobedo, Ed.D. '92
Principal
Principal's Welcome
Dear Prospective Students and Families
Thank you for your interest in Holy Cross. Our story revolves around our young men and women and the caring community which strives to develop and educate them in mind and heart as well as body and soul through an integrated program of academic, spiritual, and extra-curricular activities.
The decision of which Catholic school to attend is one of the biggest decisions that a family will make. There are many questions about the school and its culture that should be asked. Your school selection needs to feel right. The strong formation that young men and women receive at Holy Cross of San Antonio will support and stay with them through life. Holy Cross of San Antonio is a place where students grow in their faith, find friendship, appreciate the value of academics, and have a sense of belonging.
At Holy Cross every student is special and will be provided every opportunity to develop the talents that she or he has. By allowing students to grow and excel in all aspects of school life, our community is truly innovative, vibrant and diverse.
If you are considering a Catholic school that will continue to nurture your family's faith and spirituality, provide you with a challenging college preparatory curriculum and also give you a true sense of belonging and having fun, then Holy Cross of San Antonio is the place for you.
I would love to have the opportunity to show you why so many families are choosing Holy Cross of San Antonio. Please consider coming by the school for a visit. I look forward to meeting you soon!
Rene Escobedo, Ed.D. '92
Principal
E-mail: rene.escobedo@holycross-sa.org
Holy Cross Mission
Holy Cross School of San Antonio is a Catholic College Preparatory Middle and High School, operated in the tradition of the Congregation of Holy Cross. It serves metropolitan San Antonio with special outreach to the western and southern parts of the city. As a school sponsored by the Congregation of Holy Cross, it seeks to develop young men and women of integrity through education of minds and forming hearts in a family environment which nourishes respect for themselves and others and encourages them to bring hope to others in today's world.
Holy Cross Academic Experience
"The mind will not be cultivated at the expense of the heart."
~ Blessed Basile Moreau, Founder of the Congregation of Holy Cross
The quote above perfectly defines the philosophy behind the Holy Cross Academic Experience. Here, educators work to address the needs and foster growth in the whole child: mind, body and spirit. In each of his or her classes the Holy Cross Student is offered a variety of experiences that will both cultivate their faith and enrich their mind.
Academically, the Holy Cross graduation program satisfies all requirements set by the State of Texas, Texas Catholic Conference of Bishops, and the AdvancEd accrediting agency. All of which have verified that our program challenges students through a traditional, comprehensive, and sequential curriculum with Advanced Placement and Dual Credit opportunities for students. Inside of our classrooms one will find a blended learning environment that has teachers relating with students in instructional activities and students interacting with each other in learning discussions.
While our academic program will poise each graduate for collegiate success, some will begin their college journey while still in high school. The Holy Cross Dual Credit Experience, made possible through a robust partnership between Holy Cross and Our Lady of the Lake University, affords academically eligible sophomores, juniors, and seniors the opportunity to take college classes at the university. Students who take advantage of this opportunity will have the ability to earn up to 36 college credits before they graduate from Holy Cross.
If a student decides that he or she would rather not be a part of the Holy Cross Dual Credit Experience, college credits are still within their grasp through our Advanced Placement Program. Currently, Holy Cross can offer over 10 AP courses spread over the disciplines of English, Art, Math, Science, and Social Studies. Completing these courses and scoring well on their respective AP exams will earn students college credit as determined by the university they choose to attend.
For more information about the Holy Cross Academic Experience and how your child will be successful within it, please feel free to contact our Dean of Academics, Mr. Richard E. Vasquez, '98, MA, at 210-436-4254 or email him at richard.vasquez@holycross-sa.org. If you would like to schedule an appointment with him please schedule a time by clicking here.
Other Academic Links of Interest:
Holy Cross Dual Credit Experience
Holy Cross Knights Athletics
Holy Cross offers 19 sports with 29 teams. Annually 75% to 80% of the student body participates in at least one extra-curricular activity.
Holy Cross of San Antonio has a tradition of excellence that the athletic program strives to uphold. As Blessed Basile Moreau has said, "We shall always place education side by side with instruction; the mind will not be cultivated at the expense of the heart." At Holy Cross, we strive to produce "useful citizens for society". Athletics plays a vital role in a Holy Cross education that seeks to prepare young men and women intellectually, spiritually, and physically for life.
A Holy Cross Knight should reflect a selfless attitude that is inspired by a vision of a team-first approach. The code that a Holy Cross Knight lives by should be reflected by their priorities; first, a devotion to God and family; second, loyalty to their country and their local and school communities; and finally, a belief that the needs of the team supersede their own desires.
In the Holy Cross tradition our coaches encourage our student-athletes to be personally demanding and reflect the qualities of academic achievement, hard work and respect. Athletes should understand that success is not necessarily defined by wins and losses, but rather by their character, their attitude, personal responsibility and accountability to their team, family, and coaches-and perseverance in the face of obstacles. It is our belief that if the emphasis is on these qualities, then winning will take care of itself. As coaches, we believe in the high school experience in which student-athletes are encouraged to participate in more than one sport.
Holy Cross of San Antonio currently competes in the Texas Association of Private and Parochial Schools at the Division II or 5A level. Our district opponents include San Antonio Christian School, Texas Military Institute and Providence. Additionally in football our opponents include Corpus Christi John Paul II, Brownsville St. Joseph and San Antonio Christian.
426 N. San Felipe Street
San Antonio, TX 78228
United States