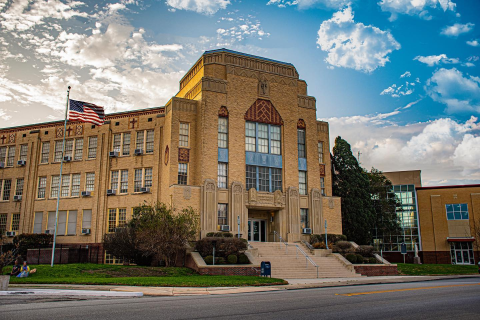 Welcome from Central Catholic
Central Catholic has had an important role in the rich history of the city of San Antonio since 1852. For more than 170 years, Central has shaped young men of faith to be leaders, to understand the importance of family, to share a commitment to social justice, and to be prepared to meet the challenges and the landscape of today's world. At Central Catholic, we accept students for who they are and help them grow into who God is calling them to be. Guided by our Catholic Marianist identity, each student is brought closer to Christ through our unique bond of brotherhood. Brotherhood is a true kinship formed amongst our young men that allow them to encounter Christ in each other. We walk the journey together, as a family. Our storied history and deep traditions continue to influence how we educate our young men. By focusing on the whole person, we help grow and develop the mind, body, and spirit through prayer and academics while equipping them to compete in the global community. As you explore options for high school, we pray that you feel Central Catholic can impact your life as it has for our 9,000+ alumni worldwide. We look forward to meeting you and your family!  
Mission Statement
Central Catholic High School is a college preparatory school educating young men, from diverse backgrounds, in the Marianist tradition for success through the development of scholarship, leadership and moral character.
Academic Excellence
Since its beginning in 1852, Central Catholic's tradition of academic excellence has been rooted in the Marianist philosophy of a well-rounded education. Each course is designed with the 5 Characteristics of a Marianist Education in mind.
• Educate for the formation of faith
• Provide an integral, quality education
• Education in family spirit
• Educate for service, justice, and peace
• Educate for adaptation and change
Central Catholic's college preparatory environment allows students to discover what they are most interested in, develop skills, and form their values.
► 14 Advance Placement (AP) Courses
► 5 Dual Credit Classes with St. Mary's University
► 100% Graduation Rate
► 100% College Acceptance
► 14:1 Student/Teacher Ratio
Faith Life
Fr. Chaminade said, "We seek to live the most faithful imitation of Jesus Christ, Son of God become Son of Mary for the salvation of all." This message guides our young men's spiritual and religious development here at Central Catholic. Throughout your son's time at Central Catholic, we will walk with him on his unique faith journey and assist in his formation as a faith-filled leader of sound moral character. To achieve these ideals, we provide all students the opportunity to grow their faith through retreats, prayer, mass, Guardian Angels service opportunities, and Marianist L.I.F.E--a faith-based leadership program. After four years, we want all of our students to be models of Christ and actively invite others into a closer relationship with Christ.
Student Development
Discover your talents, develop a strong network of lifelong relationships, and prove to yourself that you can achieve your goals. Whether it be through intramurals, robotics, or Guardian Angels, Central Catholic offers numerous clubs, organizations, and activities to keep our students engaged with our community. We model our clubs and organizations using the guidance of our Marianist spirituality. In each club or organization, students have the opportunity to say "Yes" to a leadership role like our Mother Mary and build a club that will live beyond their four years here. Students will be engaged with other Central Catholic students and form a community of shared interest.
Athletics
Central Catholic's athletics program encourages students to practice Marianist values by demonstrating sportsmanship while striving to attain competitive excellence. With various sports offered, athletics provides growth-promoting experiences and prepares students for success as they develop competencies through collaboration with others to achieve personal and group goals.
Central Catholic's Athletic Department strives to augment the students' education through interscholastic sports while providing an environment with personnel and activities that foster physical, intellectual, spiritual, emotional, and mature social growth. The department's mission is to help provide students with the appropriate underlying principles of Marianist education; spiritual, family, and community values, within competitive experiences.

Statistics
171 years dedicated to developing young men
$30.1 million in scholarships earned by the Class of 2022


2 National Merit Scholar Finalists in the Class of 2022

3 Military Appointments in the Class of 2022

9,000+ Living alumni worldwide

80 zip codes represented in the student body
25 Athletic TAPPS State Championships
1403 N. St Marys St.
San Antonio, TX 78215
United States