Welcome to Antonian!
Whether you're a current or prospective student or parent, an alumnus, or just stopping by, I would like to welcome you to Antonian, "a place called home."
Serving the students, families, and stakeholders as the educational and spiritual leader of Antonian is an absolute blessing. As the largest Catholic school in the Archdiocese of San Antonio, the administrative team, faculty, and staff have a shared co-responsibility in the success of our campus, and as such, it is our philosophy to prepare our students for the world they will be entering when they leave Antonian. That preparation is based on the total formation of each of our students—academic, athletic, social-emotional, and spiritual.
If you are interested in finding your home at Antonian, or if it's been a while since you have visited our campus, I encourage you to give us a call, come take a tour, and catch a game under the lights on a Friday night or on the hardwood. Join us on a walk among the Apaches. When you do, you are encouraged to wear the red, walk the walk and make a difference.
God Bless and Roll Tribe,
John Mein, Principal
Mission and Core Values
MISSION
"The mission of Antonian College Preparatory High School is to inspire and empower young men and women to thrive while leading meaningful lives rooted in the teachings of Jesus Christ."
ANTONIAN CORE VALUES
Our philosophy reflects the basic beliefs about learning and teaching in Antonian's educational environment. To this end, there is a set of principles that are required to be endorsed by all members of the Antonian community. These principles form the Antonian Core Values and include:
Compassion
Courage
Integrity
Justice
Love
Responsibility
Academics
There are many factors that, when combined properly, contribute to Antonian's continued success. The school's Leadership Team together with the faculty establishes yearly goals and objectives which, when coupled with a high degree of commitment on behalf of students, form the impetus for school-wide effectiveness. Students at Antonian enjoy a rigorous curriculum that assists in their intellectual development. The curriculum itself teaches a very basic discipline of mental habits as well as a meticulous examination of the subject matter.
Student Life
In addition to a rigorous curriculum our students enjoy:
A full athletic program with 14 sports, 30 teams, staffed by 50 coaches
Over 30 clubs and organizations
A renowned Theater Program
Apache band, cheer, and dance teams
Spiritual formation through liturgies, retreats and community service opportunities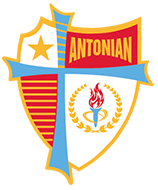 Statistics
$28.2+ Million in College Scholarships (2022)
1,334 College Credit Hours Earned (2022)
14:1 Student-Teacher Ratio
4 Henderson Cup Titles
100+ College Athletic Commitments
59 Athletic State Championships

6425 West Ave.
San Antonio, TX 78213-2317
United States