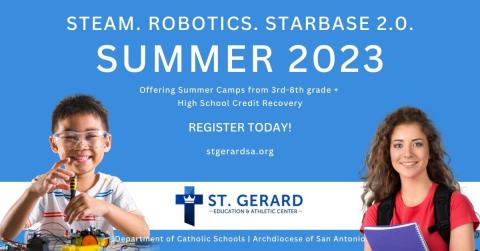 If you have students in 2nd-12th grade, we have summer camps designed just for you! We have brought a wide variety of programs together in one location to make it easy for our families.
Choose from multiple sports and academic camps including advanced skills camps for soccer, basketball, volleyball, strength & conditioning, STEM robotics camps, High School Credit Recovery, and more. 
Payment Plans offered.
​
STEM: STARBASE 2.0
The 2.0 Program is focused on STEM learning geared to Middle School aged students. STARBASE Kelly 2.0 will blend STEM with Entrepreneurial Skills to guide the students to plan and design a STEM Event.
​
STEM: GET MOVING WITH ROBOTICS!
Join us as we explore the exciting world of robotics. Students will engage in imagining, designing, and building actual models and robots.
​
CREDIT RECOVERY
Providing academic, social emotional support and post-secondary academic planning for those who need it. Small group, individualized sessions in Science, Math, Humanities and English. Each session receives one credit.
Our camps are currently enrolling all Archdiocese of San Antonio Catholic School students, and we offer convenient payment plans to make your summer at St. Gerard possible.
Register today at https://www.stgerardsa.org/summer-programs